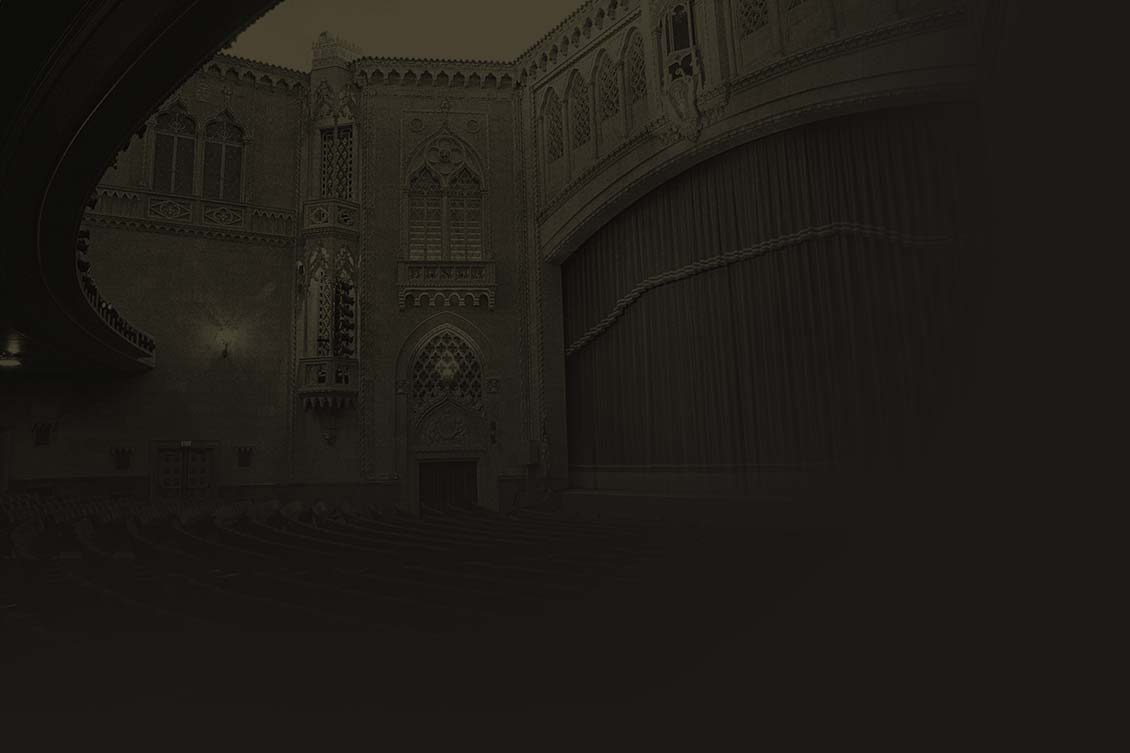 Contributions, memberships, and volunteers are vital to help Hershey Theatre® fulfill its mission. Support from businesses and individuals allow us to sustain educational programming, fulfill important community partnerships, and maintain our landmark facility.
Guild Memberships
Hershey Theatre has been a symbol of cultural excellence for over 80 years presenting the best in theatre, music, dance, and opera. You can help the Hershey Theatre bring these fine performances to Central Pennsylvania by joining the Hershey Theatre Guild - a group of theatre enthusiasts who are committed to helping our theatre flourish. Your generous tax-deductible contribution will help us maintain artistic excellence and financial stability in the seasons ahead. Please join us now as we look to the future to continue providing superior artistic experiences for all generations.
Membership benefits are available throughout the season and are renewable at yearly intervals.
Download Our Brochure
Hershey Theatre Guild Application
Please help us keep the Hershey Theatre alive for another 75 years. Fill out our Guild application and mail to:
Hershey Theatre
P.O. Box 395
Hershey, PA 17033-0395
Download Our Application
Volunteer
Hershey Theatre relies heavily on the help of volunteers. The success of many of our programs depends directly on the efforts of our volunteers. Volunteer work can be a rewarding and enriching experience!
How To Volunteer
When providing customer service for guests visiting Hershey Theatre, volunteers play an important role. Please consider lending us your special skill or simply sharing your time with others! It's a great way to be a part of Central Pennsylvania's premier performing arts center, and share in the legacy of Milton Hershey.
Who Can Be A Volunteer?
Volunteers must be 16 years of age or older
Volunteers should be friendly, outgoing, and enjoy working with people
Volunteers must be able to stand for at least one hour and must be able to walk-up and down stairs (if working at Hershey Theatre shows)
Volunteers should have an interest in preserving and promoting Milton Hershey's legacy
Volunteers should have an interest in the performing arts and/or educational programming
All volunteers are required to complete security clearances
What Do Volunteers Do?
Volunteers work primarily in the positions listed below:
Ushers serve as the front-line customer service representatives at Hershey Theatre performances. They greet guests, seat them quickly and with courtesy and respect, and respond to any special needs or requirements of the guests.
How Often Would I Volunteer?
Ushers usually work approximately 5 or more shows per year. Volunteers must be willing to work at least once in a season in order to be considered an active usher. Other opportunities are on an as-needed basis.
Usher orientation is held several times a year; it is mandatory for each new volunteer usher.
Donate
Contributions are vital to help Hershey Theatre fulfill its mission. Ticket sales do not cover all the costs of the Theatre's broad array of programming and educational offerings. Only support from corporations, grants, foundations, public partners, and individuals allow us to initiate and sustain educational programming, create and fulfill important community partnerships, and maintain our landmark facility.
Join In The Legacy By Making A Gift!
There are many ways to give to Hershey Theatre, with benefits and privileges available to you in thanks for your generosity. All contributions are tax-deductible to the fullest extent provided by law, and will help to ensure that Hershey Theatre continues to thrive for another 75 years. Contributions of in-kind gifts, materials and services are also welcome. So, play your part! Join in Milton Hershey's vision for this region!
Businesses
Reduce your Business Tax Liability and support Hershey Theatre through the Pennsylvania's Educational Improvement Tax Credit Program!
Program Info
The M.S. Hershey Foundation is a 501(c)(3) not-for-profit organization; as an operating entity of the Foundation, all gifts made to Hershey Theatre are tax-deductible to the extent provided by law. The official registration and financial information of The M.S. Hershey Foundation may be obtained from the Pennsylvania Department of State by calling toll free, within Pennsylvania, 1 (800) 732-0999. Registration does not imply endorsement.